Hi ladies!!
I'm sorry it's taking so long before I place pics of all the products and swatches. First of all, it were very many products....and I have been very busy with my new Dutch website about make-up and beauty (http://www.lushiousbeauty.nl/). And that's not all, I'm also a bit busy with the financials of our business...
Well, my days are a bit busy lately, but I did make pics of most of the stuff so I will do my very best to post everything a.s.a.p.!
First off to the Suite Array pearlglider liner swatches: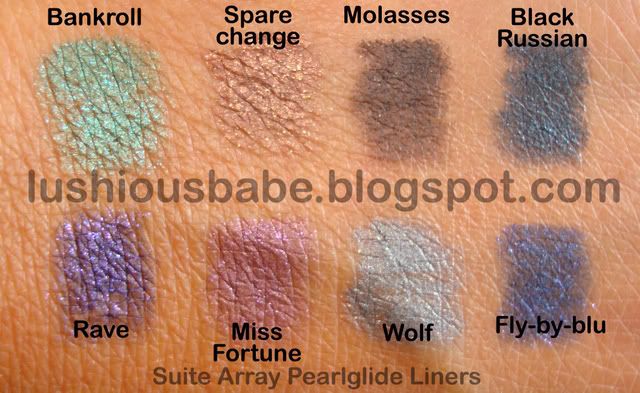 The colour descriptions are:
Wolf - Deep grey with gold glitter
Rave - Deep purple with purple glitter
Fly-by-Blu - Light blue with blue glitter
Black Russian - Black with navy blue glitter
Miss Fortune - Eggplant with light pink glitter
Bankroll - Rich green with bright green sparkle
Spare Change - Mid-tone brown with copper glitter
Molasses - Brown with mid-tone brown glitter

I really do like these pencils, they are very smooth to the touch, are very pigmented and yes, they are glittery, but not too much. And unlike the Softsparkle pencils, you really can not feel the glitter when you apply them. They seem to be waterproof, although I don't know if this is "official".'
I've swatched them on my hand and try to wash them off and I had a hard time doing this, I really had to use soap and give it a good rub. Good news!
My opininion and advice......buy them all!!!!;-)